The Surprising Fact About Courthouse Weddings in Australia
15 November 2021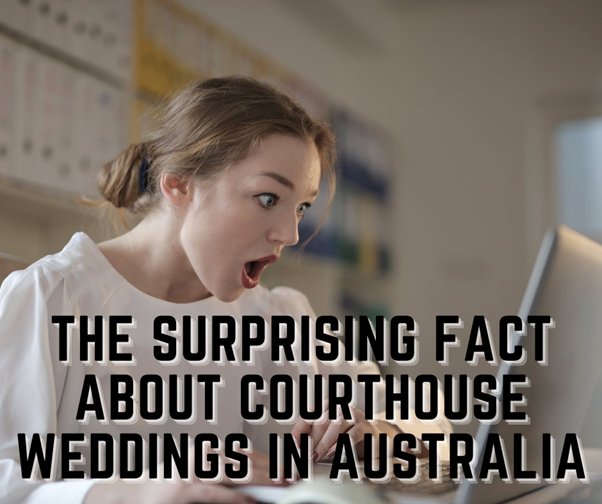 It's quite simple, and hopefully not all that surprising.
Simply put – there's no such thing as "court house weddings" in Australia. We don't do that here.
If you're planning on saving time and money by dropping in to your local court to get a licence and have your marriage solemnise by a judge – sorry, you've watched too many US sitcoms or read too many American wedding blogs.
Q: OK so, how do you get married then without the fuss?
A: There two types of wedding in Australia, religious and civil. If you want a religious wedding, well you probably wouldn't be researching "courthouse weddings". Religious wedding; their house, their rules – but they still have to stick to the requirements of the Marriage Act.
Civil weddings can be conducted by either a civil celebrant (such as me!), or by the Registry Office run by Births Deaths and Marriages. In Victoria, the Registry Office is located in the CBD, at the top of Spring St.
Q: So a Registry wedding is simpler and quicker then?Can I just turn up to their office and get it done in the day?
A: No. All weddings in Australia start with the completion of the Notice of Intended Marriage, and it must be lodged with your celebrant (your authorised person in a religious ceremony, your civil celebrant, or with the Registry Office) ONE CLEAR MONTH before your planned wedding. So for a wedding on 14 February, you need to have your document lodged by no later than 14 January. Only in the most extreme circumstances (critically ill, being sent to jail etc) can this time be shortened.
Q: Drop the paperwork off then and come back one month later, you're good to go?
A: No. You still have to book inand they may not have your desired date, or time. In Victoria, there's only the one venue.Prices vary, and of course weekends are more expensive.
During the early stages of the Covid pandemic the Registry Office was one of the first government functions to close down. This left couples with the choice of either postponing or finding a civil celebrant that could still work. I was to take on jobs such as these performing weddings (under Covid conditions) for couples on their chosen dates.
If you go with a civil celebrant they may have more flexibility to work with you for a time date and place.
Q: OK, but still it's cheaper, right? I don't want all the fuss.
A: No, not necessarily. The thing about a civil wedding (Registry or civil celebrant) is that it must have certain elements – introduction, legal definition of marriage stated, simple vows, signing of documents. These happen at every wedding to be legal. Anything else is tradition and personalisation. If you don't want readings or rings, then don't! A good celebrant (like me) will talk about your options choices, and can make things as simple or as intricate as you like.
The advantage a civil celebrant has over the Registry is the ability to customise your ceremony. If you want to keep it simple, to the legal minimum, then let your celebrant know that. Don't want the hassle of going into the city? Stay at home. Have your ceremony at your local park or in the corner of a café if you want to keep it low key.
Celebrants will have packages to suit most all needs.
Still not sure of the process or what you need to do to get married?
Get in touch.
celebrant@dwaynenichols.com, 0400 831 402.